Resources, Teaching Tips, TESL/TEFL
Weekly 5: At Home Activities Part 2
Week 2 of low-prep, at-home activities!
1. Highlight Five
A writing or reading activity: After writing any text, ask your students to choose any five words they can change or add to. Changes could be higher-level vocabulary, synonyms, or adding descriptive language to a noun. This helps students practice self-revising their own work. It also gives them a chance to stop and think of other vocabulary they know and can use. 
It's the same activity with a reading text, but instead of writing, the students read a small text. After reading, they choose five words they can write synonyms for or add descriptive language in the sentence.
An ESL listening activity: This is a free website to practice English Listening Skills. It's amazing and I've used it many times through the years as a teacher and tutor. You can choose listening texts by level and whether you want to focus on grammar or vocabulary. You can also choose texts by the accent of the speaker. The listening texts come with scripts, vocabulary practice, and a small listening quiz. 
3. Color Code
Spelling or Phonics Activity: Get your students to practice spelling words or focus on vowel and consonant awareness with color coding. All you need is two different colors. Just differentiate colors for consonants and vowels.
4. Sticky-note spelling
Spelling activity: This is specifically shown for practicing how to spell your name, but it can be for spelling in general. Simply write one letter per sticky note, mix the notes up, and have your student put the notes in order. A fun twist, is place the sticky notes around the room. They have to find each sticky and then place them in order!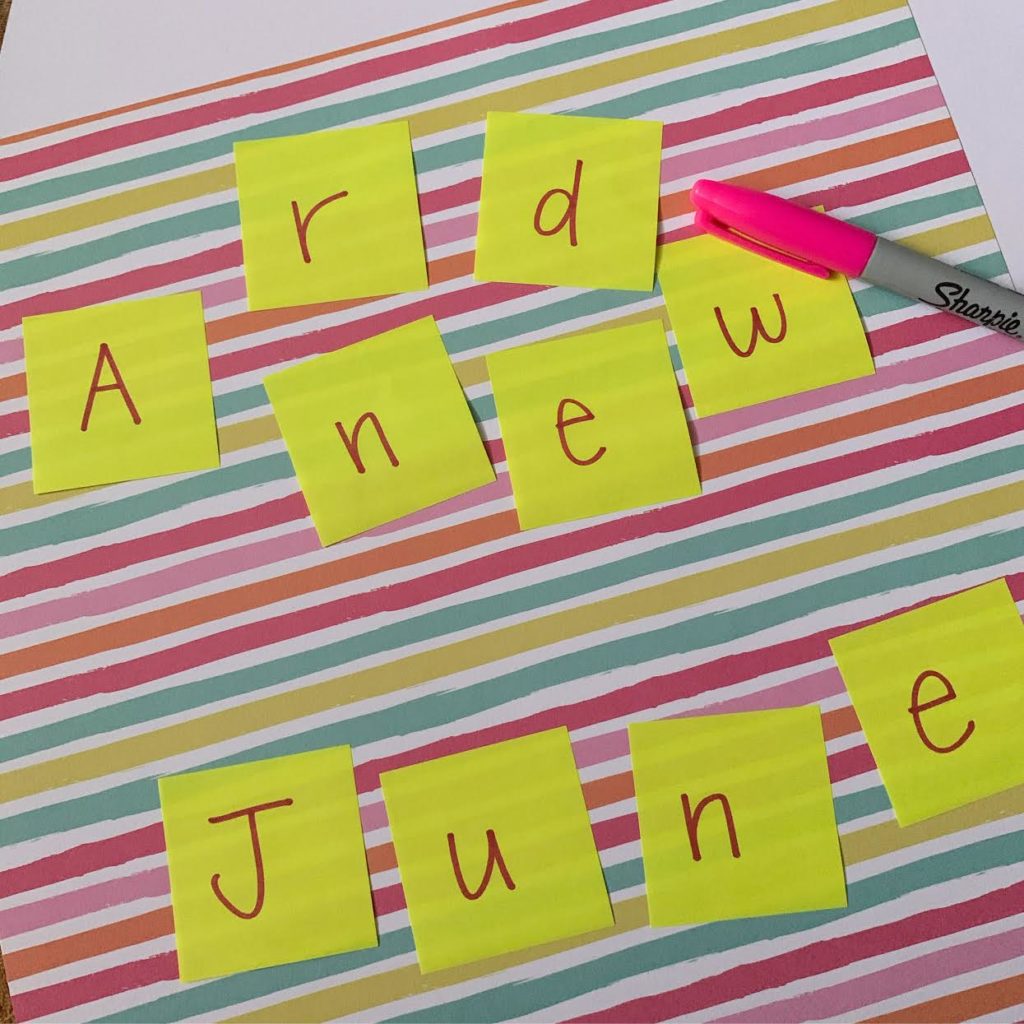 5. Plastic Cover for Worksheets
I found this online this week & think it's a great idea! Since so many of us are printing items for at-home work, we should conserve our paper/printing. If you have weekly templates or worksheets that you use again and again, slide them into a plastic protector or frame, use a whiteboard marker, and it's now reusable! This is from instagram account @talesfromaverybusyteacher
Resource Update: Editable "Digital" Friday Five 
I showed a printable version of Friday Five last week, but I have created "Digital" PDFs to my resource page. This simply means that you and students can type directly into the PDF rather than need to print!
"Digital" Friday Five and Template available here on the resource page, under Digital Resources.
There you have it! I hope you're enjoying this resources. If you have any comments, questions, or specific requests, please do not hesitate to comment!
Happy Teaching 🙂
---