Essay Writing: Cause/Effect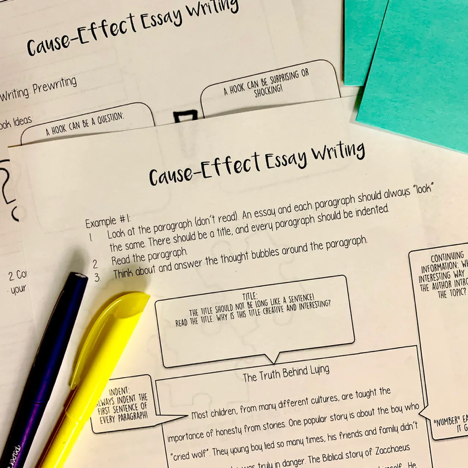 I have a love/hate relationship with essay writing, because at times it feels like students totally got it, and then there's moments where no matter what I try, it's just seems so darn hard to write a successful essay.
If there's one thing I've learned, students need MODEL Texts (or mentor texts). These texts are excellent examples of writing for students to read and analyze. When I started teaching, I'd use one or two and thought that was enough. I've learned over the years that multiple examples of essays, paragraphs, and sentences are needed.
What I've found most engaging and useful, is having students interact with the text. This means, they high-light the thesis, underline the supporting details, circle transition words and so on. The goal is to get them to recognize similarities between multiple examples.
In this Cause-Effect Essay Writing packet, students interact with one entire essay, and then three separate paragraph examples. Click here for the packet!
After examples of essays, students move into brainstorming some of their own ideas and practice writing hooks and a thesis. 
The packet also includes specific pages for grammar and transition words. The transition words are introduced with the correct grammar patterns. 
The whole packet includes ten pages of essay practice. It includes one entire model essay, three more model paragraphs, brainstorming activities for cause/effect topics, hook & thesis practice, grammar for writing (transitions and connectors), topic sentence writing practice, "wordiness" and redundancy practice, and an essay outline.
Click here for the packet! You can get the first page for free as a preview here. 
If you use the packet, please let me know! Leave a review or comment here. I'd be SO happy to answer questions or hear how it went.
Happy Writing!
---