Albino, Rain, & Chimps
This blog is FULL of photos! It was amazing to have Albino come to Uganda and get to see my everyday life, home, community, school, & get to explore and be a tourist with him!
The weekend he arrived it rained continuously & he was jet-lagged, so we only ventured out down my local road and market. It was honestly my favorite part just having him walk down this road. My daily walk to school, the market, to eat, a taxi.. basically anything I need. HOWEVER, not one person talked to us while walking. It is amazing to me how much safer and different it is as a female to be with a man. I can't start to explain how annoyed this makes me haha.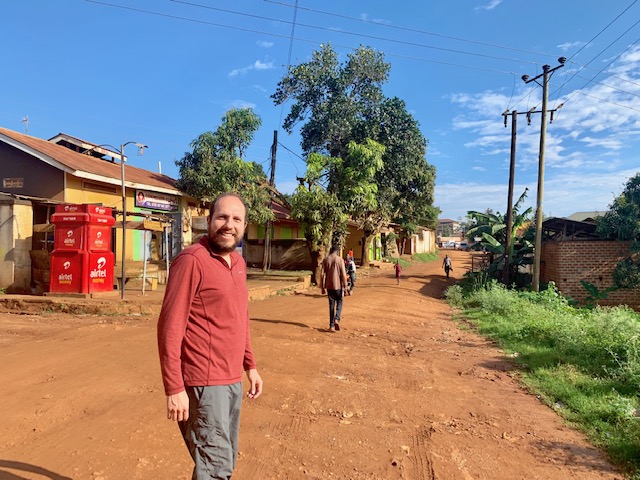 I took him to the local Botanical Gardens:
And we visited the Uganda Wildlife Conservation & Education Center in Entebbe. I've been waiting to go with Albino. This used to be a zoo, but they have made great improvements and conservation efforts to become a conservation center. The guide was a student from my university & was a wealth of information. He's know as "Mr. Wildlife" at the school. It was very rainy that day, so we had many moments waiting under trees and walking through mud, but it was great.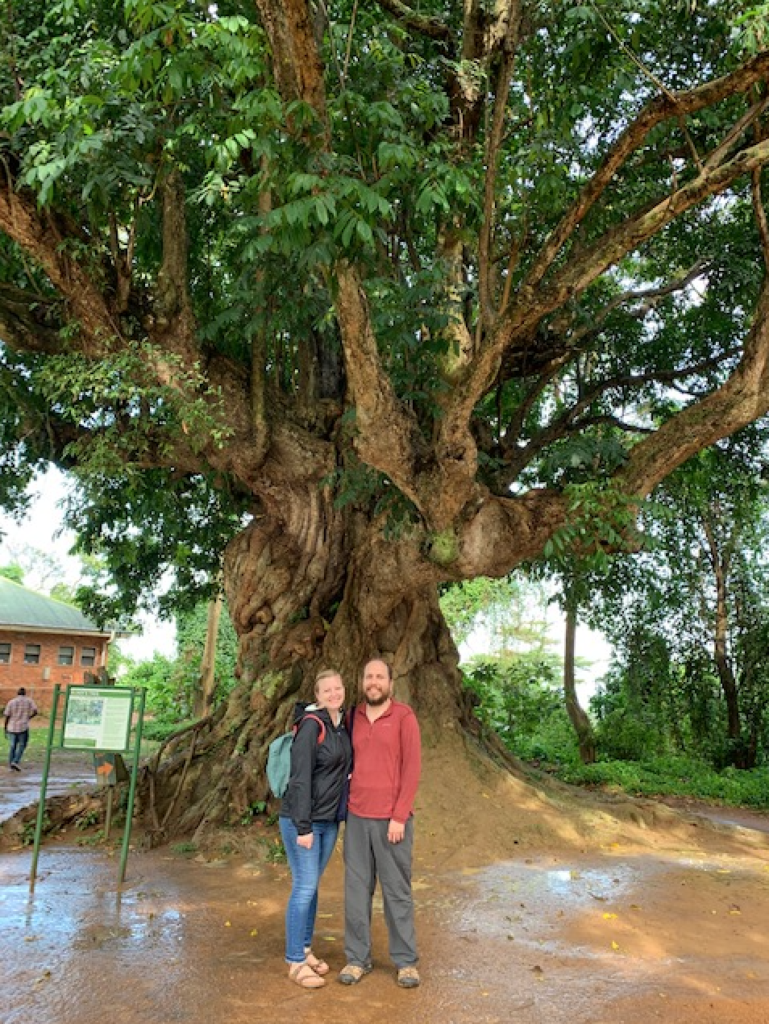 One reason I wanted to go here is because of the Shoebill bird. It's only in the central tropical areas of Africa and resides in swamps. Someday I want to take a canoe tour into the swamp to see it in the wild. These birds are around 4 ft tall! They are huge and often said to resemble dinosaurs. It's amazing!
The center includes all animals represented in Uganda except for the mountain gorillas. We saw quite a few: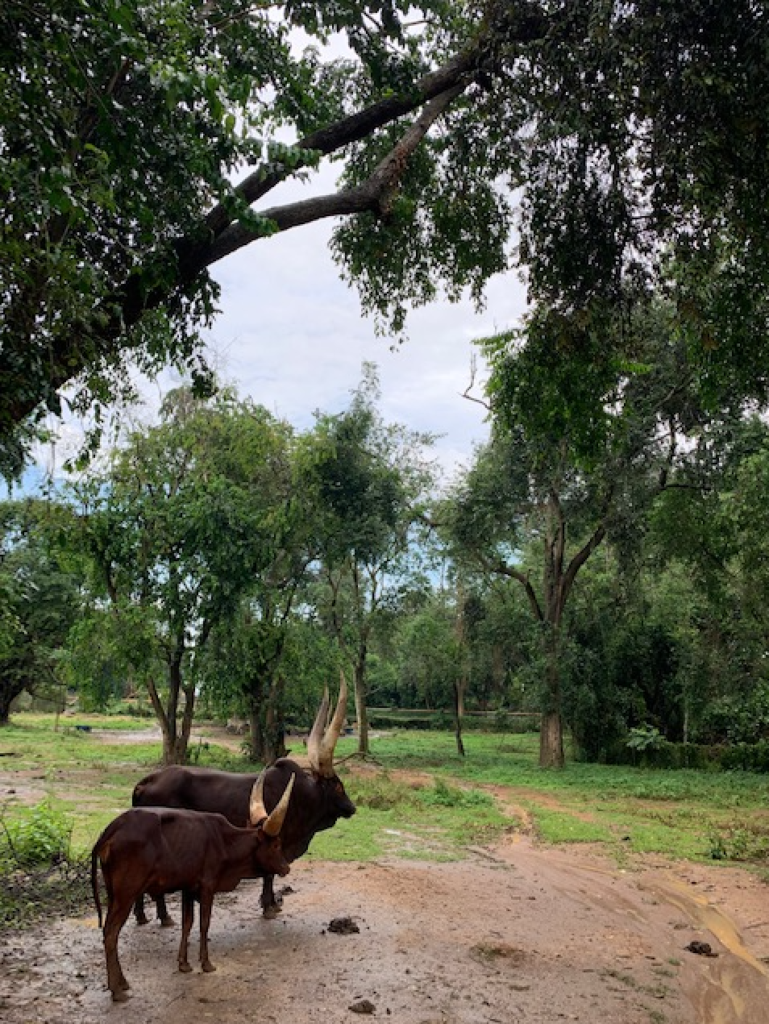 The wildlife center is near Lake Victoria so we went to Thai Garden, a restaurant I'd heard a lot about from other expats. I had walked past it before, but it looked too nice to go alone, so it was on my list to go with Albino! We sat outside right on the lake and the food was delicious. It was such a nice evening together, and we kept saying how we felt we were in Thailand rather than East Africa! It's amazing what this beautiful country has to offer. 
Another highlight was having Albino come to the university with me and observe a class. It could not have been a better example of the context & the need to be flexible & adaptable here. First, class started about 40 minutes late (that's normal). Then I was informed the other professor wouldn't be attending (okay, fine). Then, we met in a large room that was being used by another class as well. So another teacher & I were teaching at the same time (challenging, but do able). There just aren't enough rooms on campus. Then, since it had stopped raining, we decided to go outside under a tree for class. So, we resumed class outside & it was lovely. But as a teacher, teaching outside provides new challenges: no whiteboard, many distractions to students, hot/humid weather, difficulty to write/do activities at times.
The students LOVED asking Albino questions, especially about Spanish. They watch Spanish dramas here!
He took some great photos of our class: The first is at the beginning of class while inside. I brought a personal speaker connected to my phone to play some audio for a listening lesson. That whiteboard is covered in permanent marker haha 🙂 
Another day, Albino and I walked and explored a different area of Entebbe. We went to a cafe at Calvary Chapel Entebbe. This is a large church & one I'd like to attend, but transportation to the church is not easy. Realistically, it's not one I'd be able to attend each week.
Later, we found Albino his fish! Eating fish here is common since we're right on the lake. It's one thing Albino wanted before leaving. He loved it.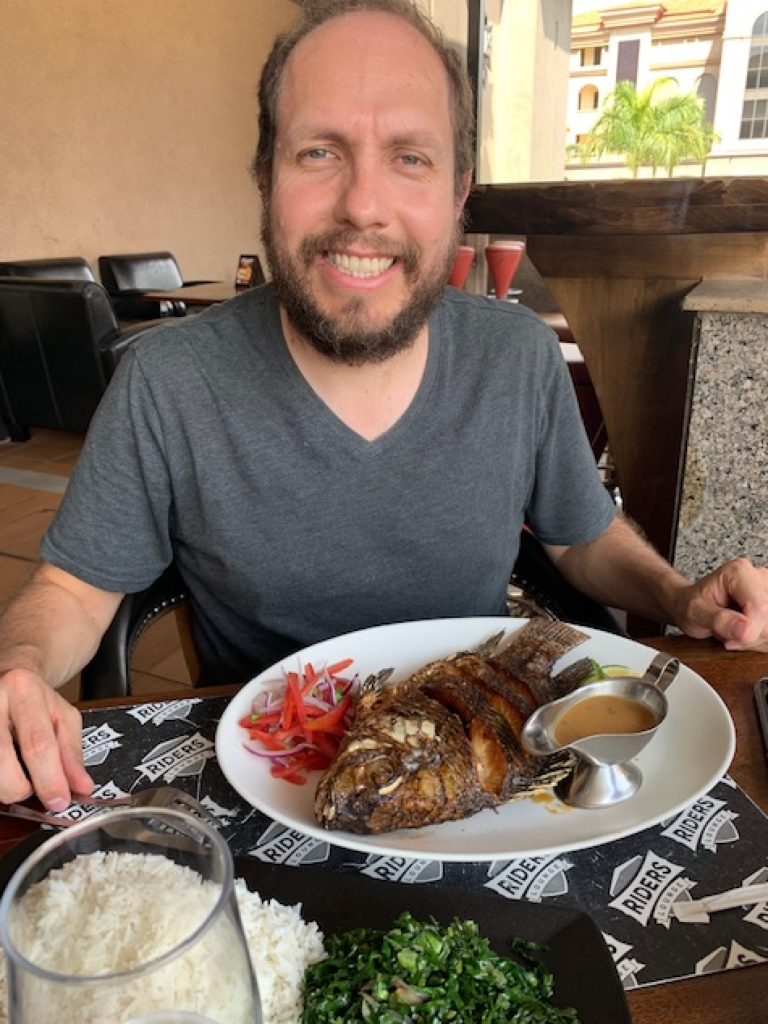 Albino's last day here was our big tourist day. The university has a tourism and conservation department, so a professor helped book us a tour & came with us! We booked a one day tour to a near by island called Ngamba Island. The entire island is devoted to chimpanzee rehabilitation and conservation. Only one small part is sectioned off for staff & boats to come in & out. There is a fence separating that part to the entire island & forest. A chimpanzee family of 50 lives in that forest. They are fed by the staff over the fence due to the forest not being large enough to feed all 50 continuously. 
Many of the chimps have been rescued from situations like the circus or inhumane conditions. It was very interesting to learn about how the family works with the alpha, other leaders, females, and even sibling relationships.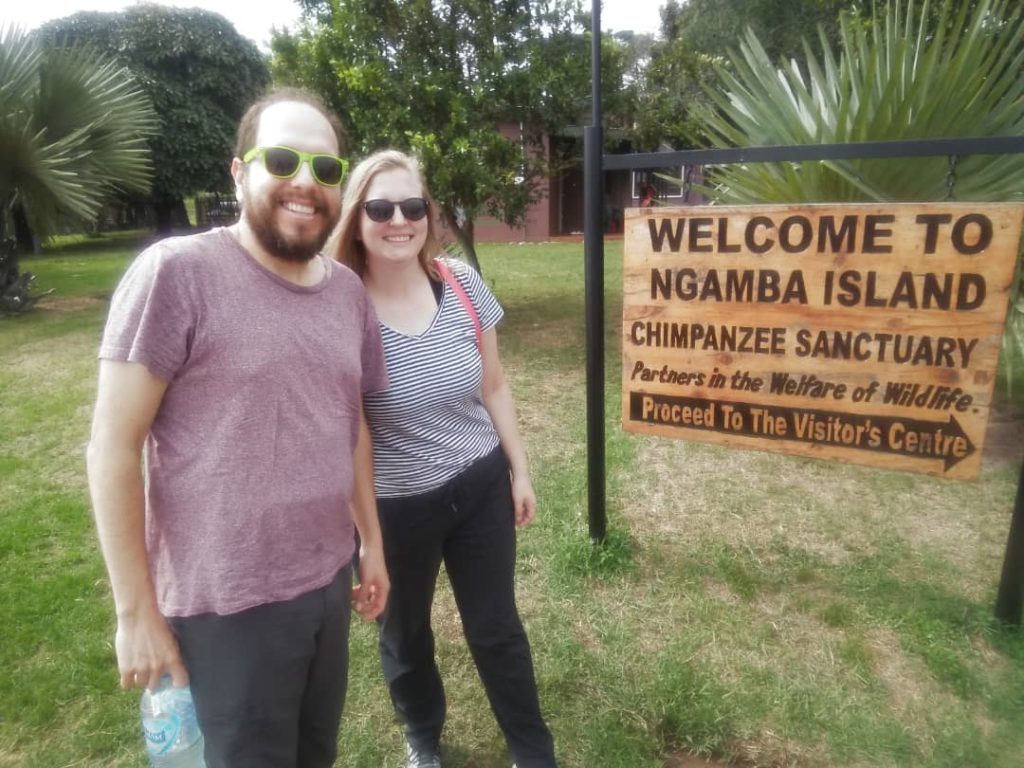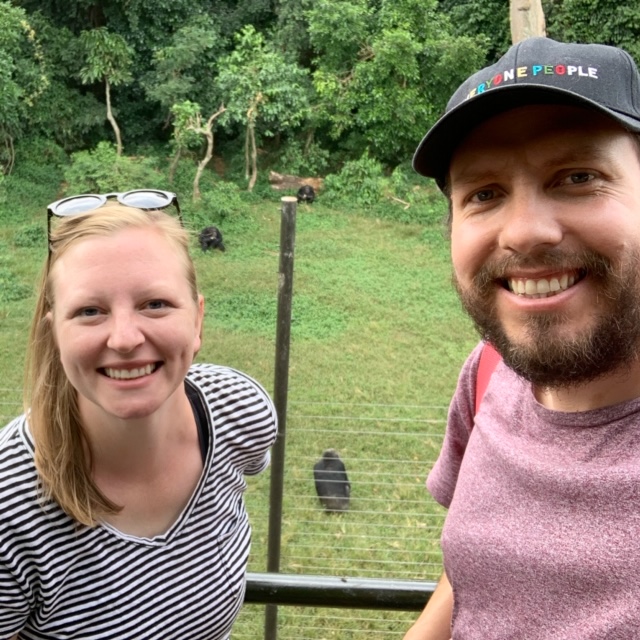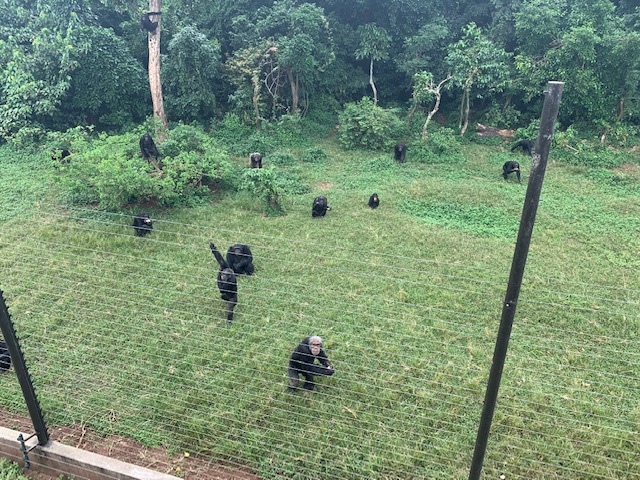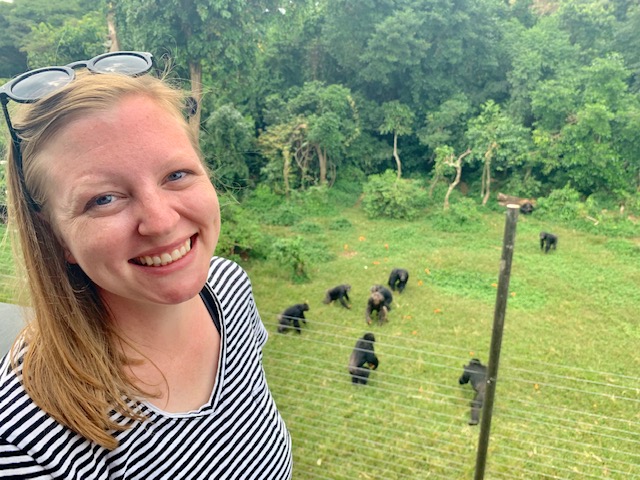 Lastly, I enjoyed taking Albino on the local transportation here. The taxis (think mini-van bus) are an experience. We took them so often while he was here, it helped me become more comfortable with them. Here he is in the back of one: 
It'll be a while until he returns to Uganda, but we are planning one more visit. I can't wait to explore a national park or two the next time he comes!
Stay tuned for more blogs coming soon!
---